BIO
Daniel Špaček is a freelance illustrator with over 20 years of experience. Over the years he worked on many different projects and types of work, ranging from illustration, animation, idea making, concept art, through tv channel design, corporate identity design, CG retouch, to creative production, art direction and much more. His current universe is fully occupied by illustrating of fairy­tales. He is happiest drawing complex and imaginary scenes full of details and imagination. He lives in Prague, Czech Republic and currently partially in Gothenburg, Sweden.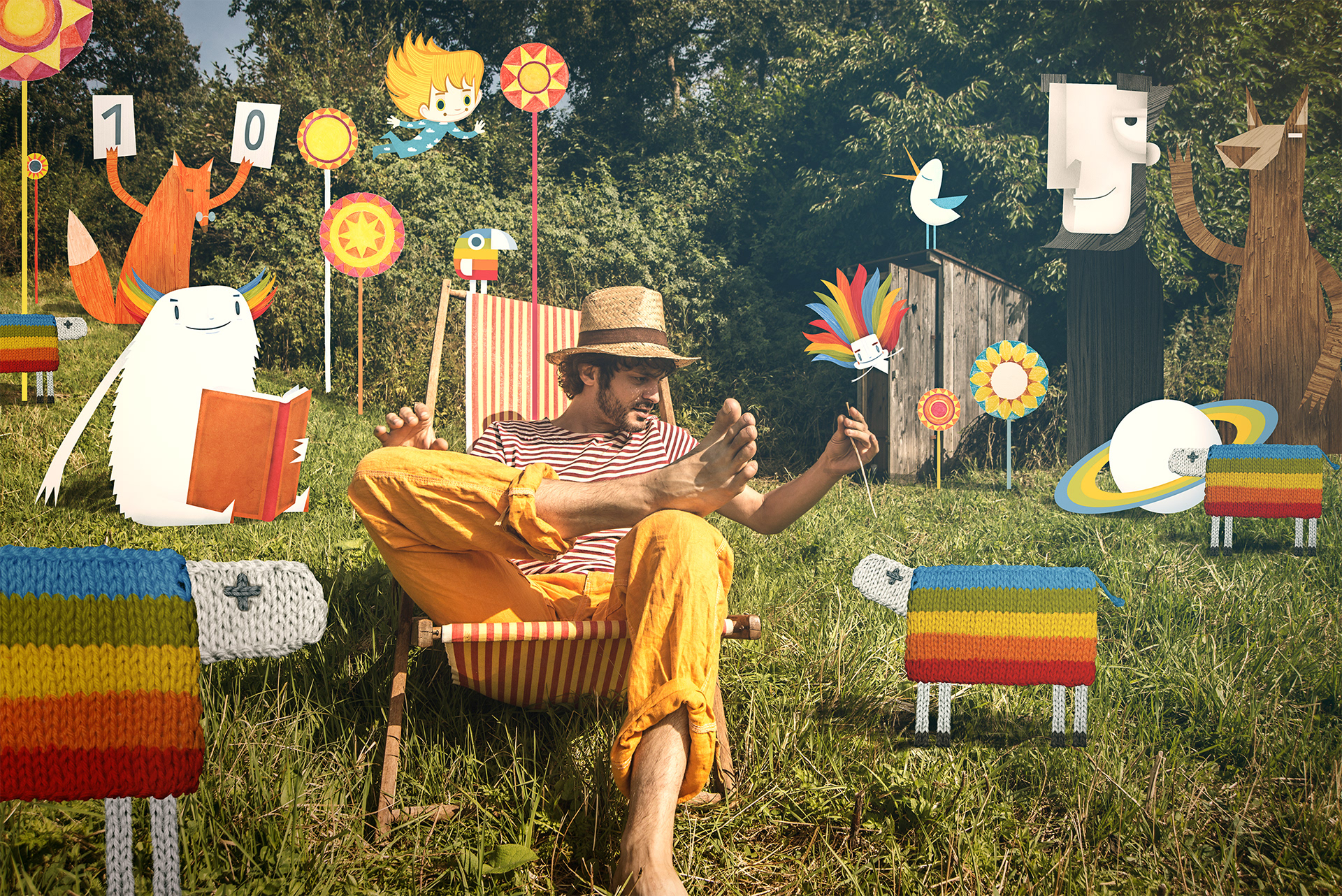 Hi I'm Daniel Špaček, an illustrator from planet Earth.
When I was young I dreamed of being an astronaut. For one reason or another it didn't happen. I later discovered drawing and very quickly realized that through this medium I can be whatever I want. All I need is a pencil and paper, open my eyes and flow into the world of imagination.
Imagine something that doesn't exist. Now imagine it bigger… a bit more to the left, add a little bit of orange, make that line straighter and that one a bit more curvier. With energetic and relaxed brush strokes fill the background with a pattern you remember from tablecloth in kindergarten. In the upper left it would be nicer to have bit more light and on right side, right under the rainbow bubble where the quirky pixie peeps, there is enough space for whole other universe. Welcome back home, all power to the imagination!
Astronauts were and are my heroes, they allow us to see our world from another, wider perspective. Four hundred kilometers above ground is a fair perspective, you must admit. With illustrations I attempt to do the same on a smaller scale and that's why I have so much fun creating them.

Hi I'm Daniel Špaček, an illustrator from planet Earth.
AWARDS
2018 
3x3 Illustration Annual no.15
- Bronze (Picturebook show), Honorable mention 3x, Distinguished merit, Merit
2017 Typo & Skim - Magnesia Litera for best Czech book for kids
2017 Typo & Skim - Golden Ribbon for best Czech book for young kids
2017 KOSMO tv series - nominee of Czech Lion Awards, Best Television Drama Series
2017 KOSMO tv series - nominee Prix Europa, The European broadcasting festival
2015 Save the rainbow - unique campaign for CT, 2x Promax awards Gold 
2015 Černobílo - animated tv series - FITES nomination for best kids show
2014 ČT :D - design of kid's channel of Czech television, achieved multiple Promax Awards (Gold, Silver)
2009 Mythematica music album - best electronic album Anděl awards
SELECTED CLIENTS PORTFOLIO
Czech Television, TV NOVA, MTV, HBO, Boogiefilms, Bistrofilms, Jakubisko film, Bontonfilm, Ogilvy&Mather, Czech Olympic Comitee, EuroRSCG, Leo Burnett, Mark BBDO, Kaspen, Coca Cola, Kofola, Vodafone, Invia, Albatros publishing, OMA, Budvar, Caterpillar, Nestle, KFC and many others…
JURY APPEARANCES
2018 - RAW illustration contest
2017 - ArtDirectorsClub Czech awards - design jury
2017 - RAW art wrestling semifinals
2013 - Anifest - animation festival
LECTURES, WORKSHOPS, PRESENTATIONS
2018 - Character design and hand lettering (with Petra Dočekalová) - Castle, Stockholm
2018 - Urbanskechting, character design - Art College Gothenburg, Sweden
2017 - Zlín festival - Typo and Skim (children´s workshop with T.Končinský)
2017 - Prague College - freelancing workshop - Illustrator´s survival toolkit 
2017 - KOSMO - lecture about how TV series was art directed
2016 - PechaKucha Prague - Černobílo tv series [ 
WATCH VIDEO
 ]
2015 - Anifilm - Černobílo tv series behind the scenes
2014 - Maharal - personal presentation
2013 - Anifest - personal presentation
EXHIBITIONS
2017 - Ex Post gallery, Prague
2016 - Santiago Ilustrado festival, Santiago de Chile
2014 - Cross, Prague
2014 - Souterrain, Prague
2014 - Maharal, Prague
2014 - LUSTR festival, Prague
WORK EXPERIENCE
more than 20 years of freelance illustrator and designer experience
from 2011-15 co-owner and founder of the Loom on the Moon multimedia studio
EDUCATION
2000-2005 master's degree at Academy of Fine Arts, Prague
2004 internship at Academy of Arts, Architecture and Design in Prague
1996-2000 bachelor's degree Faculty of social sciences, department of journalism, Charles University, Prague
OTHER
music composer of Mythematica - best electronic album of 2009, Anděl awards